INSULATING GLASS: HALF PRICE EX-DEMO HIGH PERFORMANCE ASHTON LINE 3.2 x 2m
November 29, 2015
.
AMAZING OPPORTUNITY TO ACQUIRE THIS HIGH PERFORMANCE HEAVY DUTY LINE AT VIRTUALLY
.
HALF PRICE !
.
THIS EQUIPMENT IS BRAND NEW, ONLY EVER BEEN DEMONSTRATED AT TRADE SHOWS!
.
.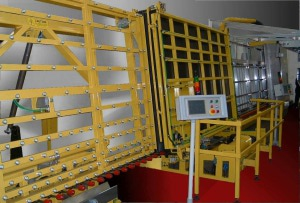 .
.
EX-EXHIBITION IGU LINE. 2.0m x 3.2m FOR RECTANGULAR & SHAPED FORMATS
.
Line Consists:
Infeed Conveyor rack
High Performance stainless steel Glass Washer
Active Carbon Water Filter Plant (optional Reverse Osmosis treatment)
Driven Overhead Spacer Frame Conveyor
2 Stage Driven inspection and Frame Application Station
Automatic Assembly & Plate Press for double and triple units
Driven Outfeed Conveyor (tilting option possible)
PLC Control with HMI Touch Screen
The washer is fitted with Low-E brushes (suitable for processing soft coat glass)
Servo driven setting of front brushes from touch screen
Automatic brush lift-off if washer transport pauses
.
Specification:
Min Glass Size: 350mm x 200mm
Max Glass Size: 3200mm x 2000mm
Working Height: 550mm +/- 25mm
Glass thickness: 3mm – 12mm – unit thickness up to 50mm
Rectangular, Shaped and Triple Formats
Cycle Time @ 22-25 seconds average on double units
.
Price includes:
Delivery and installation in Europe
Comprehensive operator training
Ongoing Software support
12 months warranty
.
USUAL PRICE EX WORKS GBP £ 210,000
.
OFFER PRICE JUST GBP £ 125,000 INCLUSIVE OF DELIVERY & INSTALLATION
.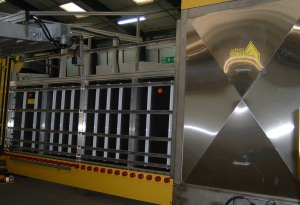 ANCILLARY EQUIPMENT such as rotary sealing tables, desiccant filler, butyl extruder, tube saw, frame assembly bench…..
.
…..all available at 20 % below list price if ordered together with this IG-PRO/3220 high speed production line !
.
Call Richard Green on 01279 624810
rgreen@ashton-industrial.com