INSULATING GLASS: OVERHAULED HIGH SPEED "HERITAGE" LINE 1.0 X 1.5M
May 16, 2015
.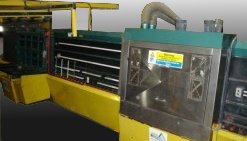 .
SPECIFICALLY DESIGNED FOR FAST EFFICIENT PRODUCTION OF
SMALL UNITS TO 1500 X 1000mm
.
IGPRO stainless steel high performance washing and drying machine with integrated recycling and reverse osmosis water treatment. Low-E compatible.
Dual frame assembly station with overhead frame conveyor, inspection lights and positioning blocks
Automatic combined high speed assembly and plate press
Driven vertical exit conveyor
Typical cycle time of 20 seconds per double unit, perfect for "Heritage" and other small sizes
Ergonomic working height of 900mm +/- minimises bending and operator fatigue
Very compact floor space requirement
Factory overhauled and certified by Ashton Industrial (currently in progress)
Right-to-Left operation
.
PRICE COMPLETE EX WORKS  £30,000  including full standard Ashton warranty
.
Delivery and installation cost according to geographic location
.
Price subject to VAT at the standard rate for UK customers, no VAT for overseas customers