ESTONIAN INVESTMENT
March 24, 2014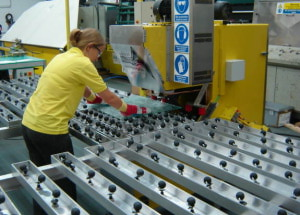 Glassolutions Saint-Gobain  in Estonia have upgraded their arrissing and pre-tempering process with an investment in Ashton Industrial's PRO range of professional heavy duty equipment.

.
Alongside the renowned heavy duty UNIX cross belt arrissing machine newly installed by Ashton Industrial at Saint Gobain Glass' factory in central Estonia, stands a specially constructed powerful single belt machine which allows corner dubbing and radius grinding: this machine can also be pivoted through 180 degrees when required, so that traditional hand-swiping of small glass pieces can be comfortably performed.
.
Unique water-bath tables are employed with semi-submerged castor balls that rinse themselves as they turn whenever a glass plate rolls across them.
.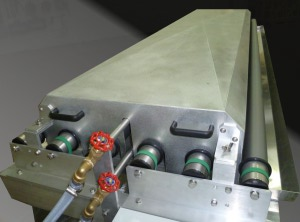 A stainless steel pre-spray module then rinses grinding residue from each arrissed glass before it passes into the wash zone.
.
This prestige contract represents Ashton Industrial's first excursion into Estonia.
.
Our genuine thanks are extended to the team of great guys at the Tartu facility for choosing Ashton as their preferred supplier; it has been a real pleasure working with them.