EXCEPTIONAL FULLY REFURBISHED PRE-OWNED PROFESSIONAL UNIX SEAMER/ARRISSER
June 18, 2016
.
AVAILABLE IMMEDIATELY
.
A truly exceptional example:
.
This fully factory rebuilt UNIX wet arrissing/seaming machine is a perfect exemplar, barely distinguishable from an entirely new one.
.
The heavy duty machine is laid out for wet operation with either SIC or Diamond belts.
Large 40cm belt drums mean we achieve belt speed approaching 150 kmh while the powerful roller bearings are only turning at half their specified capacity.
.
Quiet, smooth, professional, 100% reliability 24 hours a day !
.
The machine is offered together with a set of Water-Bath castor ball tables ca. 2.8 m x 1.8 m fitted with a central sliding support bar for long narrow work, and a benching roller for easy loading.
Complete with stainless steel tank and water recycling pump.
Suitable for glass up to 2m x 2m and down to 300mm.
Extensions can be provided if larger glass sizes are to be processed.
.
It is pictured here at its current location in the Vienna showroom of our Austrian representative from where it can be shipped anywhere in the world.
.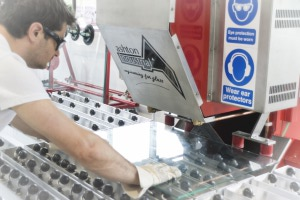 .
.
Price net:
.
UNIX refurb complete just GBP 10,995
.
New stainless steel Tank and Pump Unit GBP 1,900
.
New Water Bath Tables 2800 x 1800mm with central sliding support for narrow glass and benching roller £5,800
.
Inclusive of packing, exclusive of shipping.
.
Extensions for larger maximum glass size, price on application, please advise max glass size to be supported.
.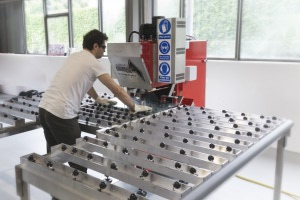 .
.
.
.
.
.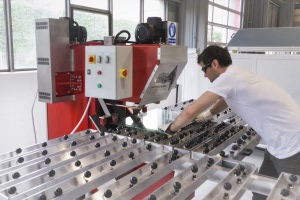 .
.
.
..