FOR SALE: LATEST GENERATION SEAMMAXX-PRO AUTOMATIC ARRISSING/SEAMING LINE
November 23, 2016
.
AN INCREDIBLE BARGAIN, JUST 5 YEARS OLD AND IN EXCELLENT CONDITION
.
Available early 2017
.
A rare chance to acquire this top class line complete with fully automatic batching facility and, if required, a high speed ASHTON HWPRO washing and drying machine.
.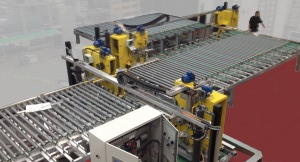 Currently in Z-layout but can be reconfigured if requested.
.
Maximum Glass size 2500 x 5000mm
Minimum 150 x 300mm
Output rate depending on glass size, max 6 glasses a minute.
.
The line will be fully overhauled at ASHTON INDUSTRIAL and is offered with usual guarantee, delivery and installation / training package.
.
Currently operating at a major UK glass tempering facility, the line can be viewed in full operation by prior appointment until the end of the year.
.
The layout plan here shows the current configuration. Please note the manual seamer is not part of the offered package but we would be glad to make an offer to supply a replacement on request.
.

.
.
This truly excellent line is offered at barely 1/3 the cost of new
.
.
Interested parties please make direct contact with Steve Ashton on 07976 802269    or email