WET VERSUS DRY
January 6, 2017
.
.
THE BIG SEAMING (ARRISSING) DEBATE – SOLVED
!
.
THE PROS AND CONS OF WET OR DRY SEAMING HAVE BEEN DEBATED FOR MORE YEARS THAN MOST OF US CAN REMEMBER. BOTH SYSTEMS HAVE THEIR ADVANTAGES AND DISADVANTAGES.
.
Decisions are often made simply on personal preference. But since Glasstec 2016 there is no longer any need to compromise. The new Best-of-Both UNIX combines the positive aspects of both wet and dry systems all rolled in to a single unit.
.
This short guide summarises the hitherto positives and negatives and how the Best-of-Both delivers all the best aspect of both systems, and at lower cost too.
.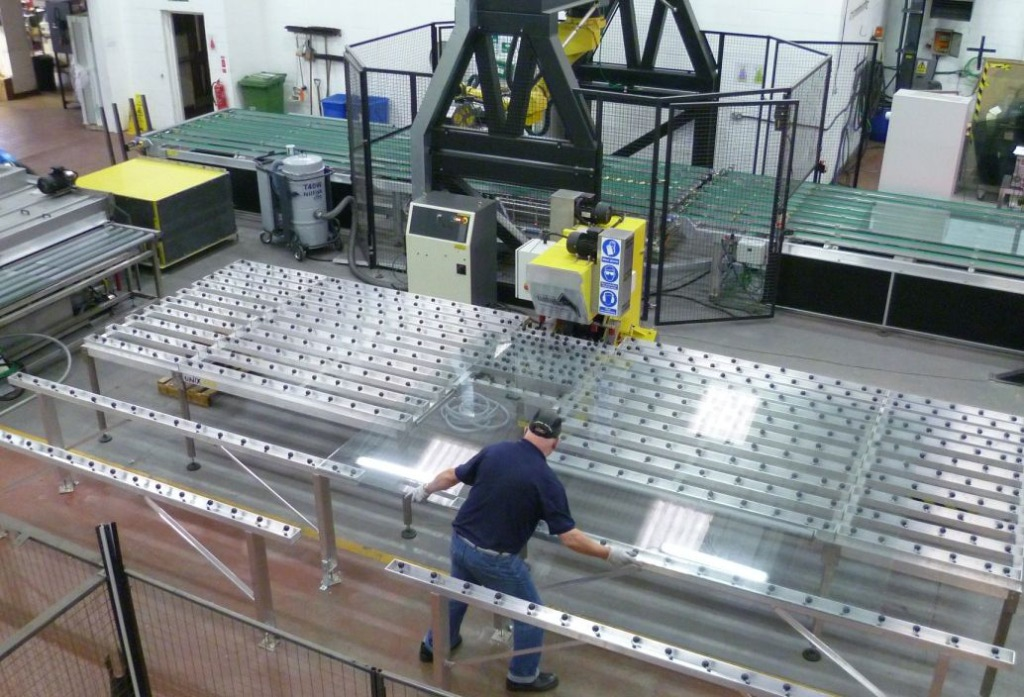 WET
.
The choice of so many over the decades, with its prime advantage being the smoother, higher quality edge finish that can be achieved with grinding belts lubricated and cooled by water.
.
The coolant also eliminates 'firing', an overheating of the glass at the point of grinding contact if the operator applies too much pressure or dwells too long in one spot.
.
Firing weakens the glass edge and is a major cause of breakage in the quench. So yield is increased compared to dry-ground edges.
.
A major advantage of wet seaming is the possibility to use diamond grinding belts for an even finer finish, and lower grinding belt costs (yes, diamonds do actually work out significantly cheaper than standard SIC belts – see the example at the foot of this article).
.
There is a further advantage in that wet castor ball tables require no power supply.
.
Disadvantages?
.
Wet systems require castor ball tables to support the glass, (attempts to use air floatation result in water being blown into the air, and into the operator's face. Everything in the area becomes soaked – including electrical panels. And there is debate about health issues of inhaling airborne water droplets).
.
Moving glass around on castor balls is heavy work, particularly large lites, and especially when wet. And that's almost impossible to do without the operator putting his hands on the upper glass surface, which can lead to damage, especially with coated glass.
.
Castor balls wear unevenly, with those nearest the grinding machine getting more use than the others, which can lead to cutting and damage to the rubber balls.
.
Regular and thorough cleaning is required to ensure castor stems do not seize up, making manoeuvrability even more difficult and aggravating castor ball damage.
.
And not least, a wet working environment is not the most pleasant prospect for the operatives. To prevent the glass powder and water solution (slurry) drying on glass surfaces, seamed lites should be washed immediately.
.
.
.

.
DRY
.
The advantages of dry seaming are primarily in the easier handling, especially of heavy lites and coated glass.
.
Air floatation allows the operative to move glass around with minimal effort and minimal hands-on contact.
.
Wipe-down surfaces mean quick and easy housekeeping, and there is no contact between glass underside and table top, so risk of scratches is reduced.
.
And the lack of water means the working environment is much more pleasant.
.
Disadvantages?
.
The main downside of dry seaming is in the edge quality which tends to be coarser when checked under a magnifier glass.
.
An increased incidence of so-called micro-cracking usually means a higher incidence of quench breakages. As does the higher risk of "firing" the glass edge and corners due to excessive heat build-up between glass and grinding belt. For this same reason, diamond belts cannot be effectively employed either.
.
Airborne dust is a topic that is coming increasingly under the scrutiny of Health & Safety organisations, and so dust extraction must be employed when dry arrissing.
.
Efficient extractors are expensive to acquire, and have ongoing power and filter costs as well as requiring floor space. And even the most efficient systems are not able to catch 100% so regular cleaning is still a necessity.
.
.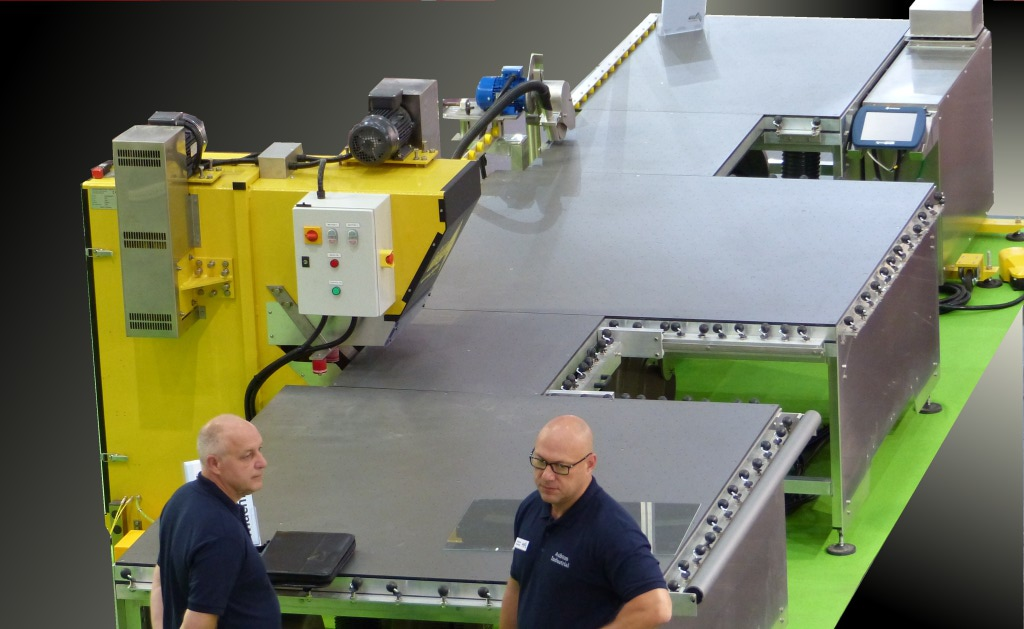 .
B-o-B shown here at GLASSTEC in Germany with combined edge deletion & V4 laser marker
.
BEST–OF–BOTH [ B-o-B ]
.
The name says it all !
All the advantages of both without any of the negatives.
.
The seamer operates with just a tiny amount of water mixed with compressed air feeding atomiser nozzles deep inside the machine. These create a very fine mist,sufficient to keep the grinding belts moist/damp enough to prevent overheating.
.
The traditional recycling tank and pump are replaced by a small fresh water reservoir so the capital cost is reduced too.
.
Water usage is truly negligible.
.
The unique ASHTON proven "high float" air float table is manufactured from special water resistant resin impregnated boards on an aluminium framework.
.
• Higher edge quality from use of 'moist' belts, comparable to fully wet systems.
• Lower quench losses by eliminating 'firing' from overheating of glass
• Possibility to further improve quality and reduce costs with Diamond Belts
• Near-effortless air float handling & reduced damage even of large and coated glass lites
• Massively reduced operator fatigue or risk of back or shoulder injury moving heavy glass
• No ongoing castor ball replacement costs or downtime
• Easy, fast wipe-down surfaces
• Clean working environment
• No airborne dust (glass particles are bound by the moisture and removed from the glass in the washing process).
• No expensive dust extraction unit, no cost of water recycling tank or pump.
• Massively reduced water use and waste: typical requirement just 20 litres per 8 hrs shift.
• CLEANER, BETTER, AND LOWER COST ALL ROLLED IN TO ONE !
.
We believe B-o-B represents the future of all manual seaming systems
.
See this equipment in action by clicking the blue [VIDEO LIBRARY] button on the left, or use this direct link.
.
.
DIAMOND BELTS – lower operating costs compared to traditional SIC belts.
.
While individual SIC belts are just a fraction of the cost of diamonds, the long life of diamonds easily outweighs that initial investment, while at the same time delivering other advantages like a finer edge finish, and elimination of scratches to the glass surface caused by loose grit from SIC belts (diamond belts do not shed loose particles).
.
Based on real feedback, our customer in Manchester processes mainly 4mm and 6mm thickness. He applies a seam/arriss width of between 0.5 and 0.7mm. Operating two 8-hr shifts, 5 days a week, so 10 shifts a week, one pair of FLEXIS-PLUS diamond belts lasts him on average around 12 to 16 weeks (average therefore 14 weeks) and costs GBP 950*
.
Feedback from the same client and others, using high quality SIC belts, tells us the best to be expected is one shift from one pair of belts (often less). So say GBP 10 per shift, which is GBP 1,400 in 14 weeks.
.
Diamonds not only provide a finer finish, they are significantly lower cost too !
.
* quantity breaks apply, the example shown here is the highest price, based on a single pair.