MOST COMPACT AUTOMATIC ARRISSING/SEAMING LINE EVER
March 16, 2017
.
This picture demonstrates just how compact the footprint of SEAMMAX-X PRO lines has become.
.
.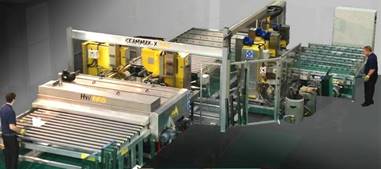 .
Incredible for such a small layout, this basic L-shape layout processes randomly mixed lite sizes at an average 4 to 5 per minute. With an added catch-up buffer before the washer that increases to 6 – 8 per minute!
.
Glass sizes are totally random, the SEAMMAX-X PRO adjusts totally automatically within that cycle time. Maximum glass sizes can be specified up to 6m x 3m. The pictures line is for max 4m x 2.5m.
.
On-line laser logo marking and edge deletion can be fitted, with no penalty to the output rates. All performed simultaneously with seaming.
.
See this equipment in action by clicking the blue [VIDEO LIBRARY] button on the left, or use this direct link