HARTUNG GLASS INDUSTRIES AWARD WINNER – GLASS MAGAZINE – 2017
September 4, 2017
.
Hartung Glass Industries have bagged yet another GLASS magazine award for innovative products and ideas.
.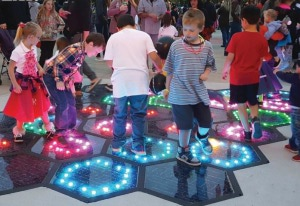 Jeff Jones Town Square in Sandpoint, Idaho is home to the very first ever public installation of special 'intelligent' solar panels set into the sidewalk and designed to replace conventional outdoor road and sidewalk surfaces.
.
The 150 sqft area has 30 of these special hexagonal panels, the brainchild of Solar Roadways [solarroadways.com], which contain heating and LED lighting technology which sense outside conditions.
.
.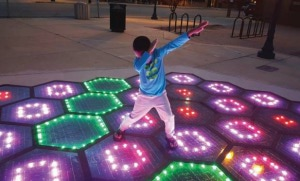 These amazing panels, each with 336 multi-coloured LED's are topped with low-iron glass, supplied and fabricated by Hartung Glass Industries [hartung-glass.com] to maximise solar transmission properties and are coated with a crushed glass frit to provide traction for pedestrian and bike traffic.
.
The inbuilt intelligence will allow use in other areas likes roads and highlighted routing of vehicles and pedestrian traffic, parking lots and much more.
GLASS Magazine Awards judge, Glen Greenberg, chief technologist, president, Elmont Glass Co., elmontglasswest.com……..
"As a technology geek and longtime glazier, the solar glass floor is exemplary of the way the industry is heading. This creative use shows off the spectacular world of what glass can be. It is consumer friendly, green and comes with the included 'wow' effect of interactive LED lights. You will certainly be seeing more of this come to the forefront in the advancing new world of glass"
.