25 YEARS AT ASHTON INDUSTRIAL
April 21, 2020
.
RICHARD GREEN CELEBRATES HIS QUARTER-CENTURY WITH A GROUND-BREAKING MOVE
.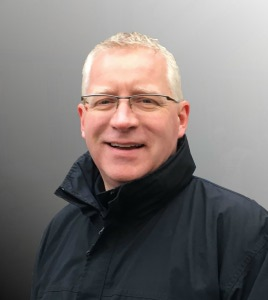 .
Way back in 1995 Richard was engaged as the company's first dedicated CAD Design Draughtsman having successfully completed a full apprenticeship in mechanical and production engineering some years before. In just 2 years he was promoted to Design Manager steering a team of five whom he led in the design of the world's first ever fully automatic horizontal seaming/arrissing line. That line, unique for processing entirely random glass sizes coming directly from optimised cutting, was premiered at the Düsseldorf Germany GLASSTEC show in 1998 and was purchased on the first day of the show by County Glass – see http://www.ashton-industrial.com/?p=192
.
Further promotions have seen Richard progress through Engineering Manager in 2008 and Senior Manager of Business Development in 2014 taking on marketing, technical advice and sales roles and representing Ashton Industrial at sponsored industry seminars and events.
.
And now in April 2020 in a major ground-breaking move, Richard is establishing a home for his family and a permanent North American office for Ashton Industrial in Canada to better service one of Ashton Industrial's biggest and long standing markets.
.
Email and mobile telephone contact data initially remain the same.
.
CONGRATULATIONS Richard – here's to the next chapter!