OFF LINE INSULATING GLASS MACHINERY
.
Off line equipment performs important functions and needs to be as reliable as the production line itself. ASHTON INDUSTRIAL equipment is uncomplicated, heavy duty and easy to use, delivering the reliability and repeatability you need every day.
.
.
Fixed height driven and/ or manually rotated sealing tables with built in vacuum cups, speed control, directional selection for left-or-right-hand operation.
.
.
.
.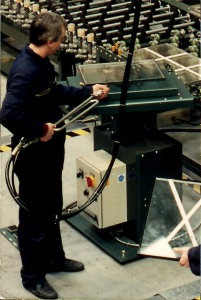 Variable height pneumatically lifting sealing tables for on-line use, the table lowers to match your conveyor height for easy loading, then lifts to clear the conveyor while rotating.
.
Very heavy duty version VHD for units up to 3 x 2m
.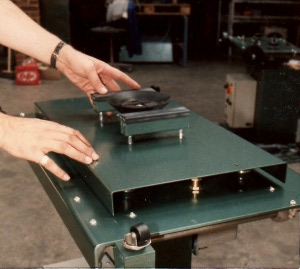 .
Quick-fit adaptor plates for small units are available for all models except the VHD.
.
Just place the adaptor on the table and activate the vacuum pedal. Units down to 150mm are firmly held in place during sealing.
.
The plate itself prevents sealant from contaminating the table surface or the vacuum cups.
.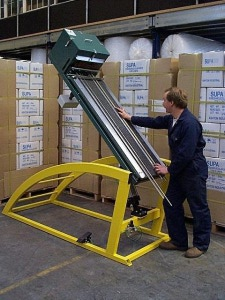 Tilting and vibrating desiccant filling machine. Accepts up to 16 spacers per cycle, easy loading in the horizontal position to minimise desiccant spill, with built in clamp to hold the spacers during the tilt and fill processes.
.
A large diameter pneumatic cylinder lowers the hopper to waist height for safe re-filling, no need for personnel to climb a ladder while carrying a 25kg refill.
.
The machine lowers to a position BEYOND horizontal after filling, so a small amount of desiccant falls back in to the hopper, making room for fitting corner keys into the spacers, without wasting the desiccant.
.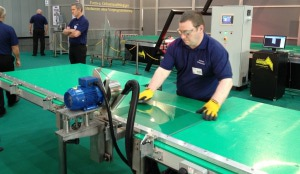 .
Air floatation edge deletion tables, automatically adjusts to any glass thickness, simply pass the glass under the deletion head guided by a back fence of alignment wheels.
.
Any operator can be trained within minutes.
.
.
.
Driven and non-driven overhead spacer frame conveyors
.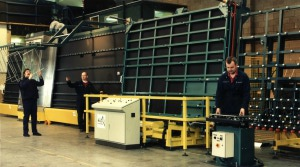 .