UNIX AIRFLOW ™ DRY SEAMING (ARRISSING)
.
PROFESSIONAL DRY SEAMING FOR THE SERIOUS MANUFACTURER
.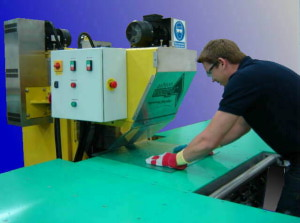 The world-renowned UNIX design of cross belt machines from Ashton Industrial is based around very heavy duty engineering designed to stand up to the harshest tempering environments and deliver round-the-clock reliability year after year.
.
Weighing in at around 500kg, the operation is virtually vibration-free, and belt transmission from drive motors mounted above the machine eliminates all the noise associated with direct shaft mountings.
.
Powerful 40mm bore double roller bearings are mounted OUTSIDE the machine frame, away from the abrasive dust generated by grinding glass.
.
A clear front visor is provided to maximise operator vision and dust containment, while a highly efficient NILFISK™ dust collection filter system is employed to vacuum all airborne dust directly at the point of grinding.
.
Very large 400mm diameter pulleys deliver an astonishing abrasive belt speed of almost 70 miles per hour / 32 metres per second for perfect performance even though motors and bearings are running at a very comfortable and quiet 1500 rpm, a full 50% inside their specified parameters.
.
AIRFLOW AIR FLOATATION TABLES are fabricated from stainless steel and aluminium with a special top surface of engineered low friction plastic. This makes for an easy-clean wipe-down surface and maximum float efficiency.
.
Powerful fans provide our unique "High Float" system where glass is floating a full 3 to 4mm above the table. Unlike traditional felted or carpeted surfaces where the float height is half that. So we float well above any small glass shells from the breakout process that may ping off the glass edge before seaming, and lie on the table. The risk of surface scratches is truly minimised!
.
For preventing long narrow lites from sagging under their own weight when traversing the operator access cut-out,
we can provide a simple but effective sliding support bar that takes only seconds to adjust.
.
.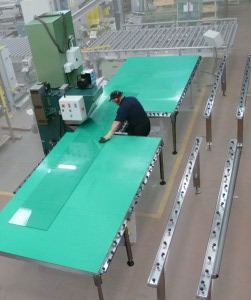 OVERSIZE GLASS AND TABLE OVERHANGS
.
One problem with air floatation tables generally is the limited amount of overhang that can be accommodated. When processing occasional oversize glass pieces which are longer than the table, any overhang causes the weight of the unsupported glass to pull down and eventually defeat the effects of the air cushion.
.
Our solutions are very inexpensive and effective: Length extensions can be added to the tables where a lot of glass over 2.5m in length is processed.
.
Parallel to the front table edge, we offer unique Walk-Thru™ support bars which afford maximum glass support without restricting operator access in any way; the operator can simply walk into the provided cut-out for the smallest sizes, or traverse between the support bars along the full table length when processing bigger or biggest pieces.
.
And perimeter castor supports are arranged along the front (and sometimes sides) set just below the float level, so they 'catch' any glass that tries to sag before it can start dragging on the table edge.
.
A REAL PROFESSIONAL HEAVYWEIGHT MACHINE FOR SERIOUS TEMPERING APPLICATIONS.
.
See the action video by clicking here http://www.ashton-industrial.com/?page_id=4966
.