HWPRO ™ HIGH PERFORMANCE STAINLESS STEEL HORIZONTAL WASHERS
.
When only the best will do !
.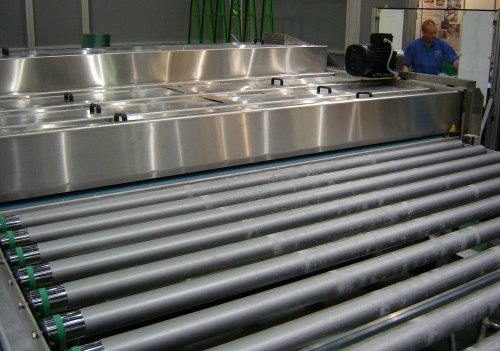 .
High speed washing and drying, no wet spots on the trailing glass edge
All stainless steel construction inside and out, non-rusting materials used throughout, composite bearing housings, stainless steel bearings, modern engineering plastics
The world's most compact design – only 6 feet / 2 metres length for pre-spray, two wash sets with cylindrical brushes, pre-drying zone, final drying zone.
.
The HWPRO™ design was originally based on the world-renowned Bielefelder Union machines manufactured in Germany, but with Ashton Industrial's own upgrades and enhancements. The HWPRO chassis is entirely stainless steel inside and out, as are all conveyor rollers and drive shafts, heating elements and spray bars. Drive gears are stainless steel worms driving phosphor-bronze worm-wheels.
.
Options include:
Motorised lift of upper machine frame, digital readout
Oscillating scrubbing bridge
FALK reverse osmosis water demineralisation
Special modification of rollers for processing side by side rows of glass, or batches of multiple rows, with minimal relative glass to glass movement.
Overhead platform for blower fans.
.
Infinitely variable choice of construction layouts for all kinds of processes like tempering, laminating, mirror coating, enamelling, Insulating Glass, and so on.
.
THE PROFESSIONALS' CHOICE – HIGH PERFORMANCE, TOP QUALITY AND 100% RELIABILITY !
.