SHAPESEAM-PRO (TM)
.
In response to demand and specific customer requests ASHTON INDUSTRIAL have developed the world's first robotic seaming line that can cope with totally random production requirements: any size and any shape and any thickness, at any time, in whatever sequence suits your needs.
.
SHAPESEAM-PRO™ is designed around a free-programmable 6 axis robot arm which carries a specially designed seaming head based on Ashton's experience and proven technology from more than 2 decades of installing heavy duty seaming machinery in tempering plants all over the globe.
.
A very heavy duty steel gantry straddles the seaming line conveyors and provides support for a high performance robot arm, underslung from the gantry's central point. Electrically interlocked guard fences with access doors surround the whole working area creating a secure operating zone for the robot and a safe working environment for personnel.
.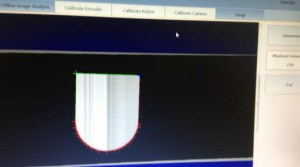 Precision transport belt conveyors are provided either side of the seaming enclosure. These serve to feed glass shapes to and from the robot and are accurately controlled by encoders and geared inverter drives. A third section, the loading conveyor, precedes these and is fitted with a high definition scanner which automatically plots the size, shape and position of each lite as it passes through.
.
This data is digitised and transformed to electronic code which steers the robot path during the seaming process. No manual intervention is required; after loading the glass and pressing a Start pedal, all subsequent aspects and processes are fully automatic.
.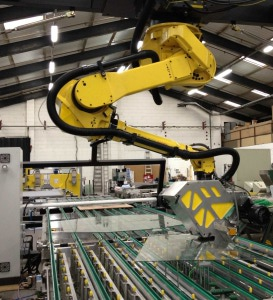 Lites can be loaded from frames or carts, but ideally where factory conditions allow the horizontal design of SHAPESEAM-PRO™ allows lites to be fed directly from the cutting and breakout line. This minimises handling, eliminates labour, and dramatically reduces any risk of damage to the glass edges or fingerprints on coated glass surfaces. Fatigue and risk of injury to operatives is also massively reduced in this way.
.
The horizontal design also lends itself for linking the SHAPESEAM-PRO™ line directly to a furnace infeed to further eliminate handling. Effectively in this way, there is no labour required for seaming: lites are introduced by the breakout operator, and the next time any glass is handled is at the exit from the furnace.
.
Another obvious advantage of horizontal processing is the ability to seam shapes that can not be handled by vertical systems. acute angles and even circles or ovals for example. Concave edges (internal radii) are the only limitation.
.
Despite all the advantages of horizontal processing, the footprint of SHAPESEAM-PRO™ is virtually identical to the space required to install and operate vertical seaming lines.
.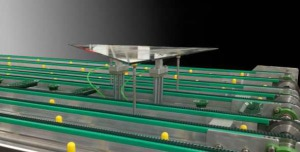 In the seaming station itself, a special precision conveyor with a matrix of vacuum cups and support pins is arranged to accept each lite prior to seaming.
.
Using data from the scanned image, only those vacuum cups and support pins relevant to each specific lite size and shape are activated, raising the glass above the conveyor belts to provide access for the seaming head.
.
The robot head passes 360deg. around the glass perimeter, seaming upper and lower edges as it goes, using either diamond or SIC silicone carbide/carborundum grinding belts.
.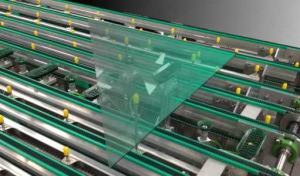 Integrated vacuum nozzles suck away airborne glass dust from the grinding process, and the dust is collected in a central container for emptying as part of routine maintenance.
.
After completing its pass, the robot head returns to its parking position while simultaneously the seamed lite is driven out to a downstream conveyor, and the next lite to be seamed is driven in.
.
The upper glass surface is not touched or gripped in any way at any time. Glass coatings remain totally protected from any kind of damage by physical human or mechanical contact.
.
CLICK ON PICTURE FOR CLEARER LARGER IMAGE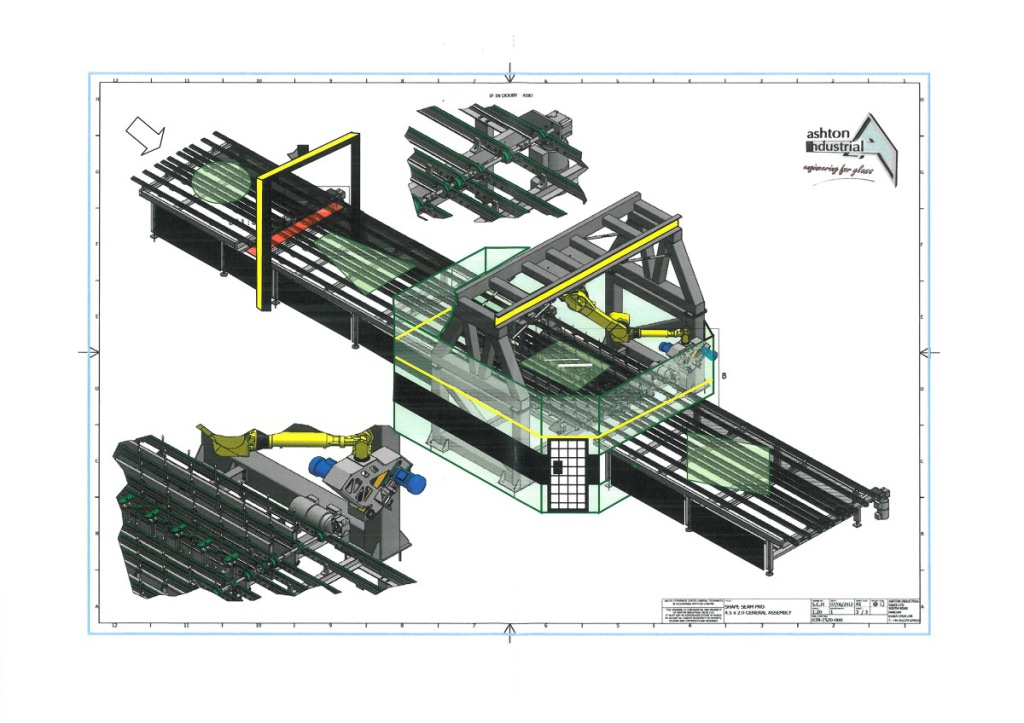 Guard fencing around the robot seaming zone comprises fully welded posts and panels of steel mesh with interlocked access gates. Electrical safety interfacing stops the robot immediately any access point is breached.
.
For changing of grinding belts, the robot head presents itself at an access gate so there is no need for the operative to enter the guarded zone.
.
SIZES:
Maximum Glass Size (standard layout):        2500 x 2000mm ( 100" x 80")
.
With optional extension to max. length          4500 x 2000mm ( 175" x 80")
.
With option extension to max. width              4500 x 2500mm (175" x 100")
.
Minimum glass size:                                      350 x 350mm (14" x 14")
.
Working height (pass line)                             900mm +/-  (36")
.
.
See the action video by clicking here http://www.ashton-industrial.com/?page_id=2888