LASER MARKING SYSTEMS
.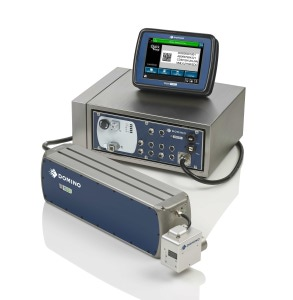 The days of messy screen printed logos, burn-in transfers and inks is long past.
.
This is the age of the laser marking system.
.
Logos are burned in less than a second, variable text capability means you can print relevant text and data directly on to each individual glass piece, identification codes, routing and tracking data and numbering for sorting into racks.
.
The possibilities are endless, the marks are permanent and will not smear or wash off, there are no ongoing costs for consumables like inks or templates or masks.
.
These high performance industrial carbon dioxide laser marking systems can be incorporated into ASHTON new and existing production lines, mounted on stand-alone tables, and a new development for 2014 will be unveiled at GLASSTEC in October, the proven ASHTON laser marking system in a compact, mobile "plug-and-play" cabinet that can be positioned anywhere in the factory.
.
D series models include WINDOWS-based software for simple creation and marking of company logos and standard texts, which can also produce Barcodes and the latest 2D Matrix Codes; it can be instructed to add incremental numbering to each sheet of glass, or even pick up alpha-numeric code, text, or variable logos from an existing glass optimising program. Machine-readable and Human-readable coding can be specific for each piece of glass.
.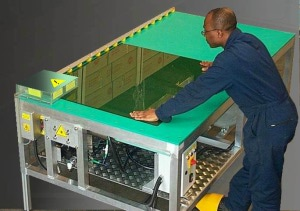 Special software interfaces can be delivered for extracting specific information about individual glass pieces from an existing database, such as size or type, customer contract no. or logo style, and automatically marking accordingly.
.
Example:
.
Air floatation table 80 x 40" to accept the laser, complete with glass alignment rollers, automatic firing of the laser once the glass is positioned, and full CE laser guarding and shielding.
.
For glass thickness 3-19mm.
.
With lower shelf to accommodate controlling hardware, and mounting brackets, guarding and electrical integration.
Bar codes
configurable date code and text
.
The D320i laser is a Class IV laser product according to EN 60825-1
.
.
.
.
.
.
LaserMark Pro V4
.
AIS-…./LMP4
Mobile Laser Marking Unit Description
.
Standalone Compact Mobile Laser Unit
.
Powerful 30 Watt High Resolution DOMINO D320i high performance industrial carbon dioxide laser marking system, incorporated into a specially designed stainless steel mobile unit that can be positioned to any processing station in your factory and simply plugged in ready to run.
HMI touch panel for logo design and parameter settings, the position of which can be changed to suit the application.
.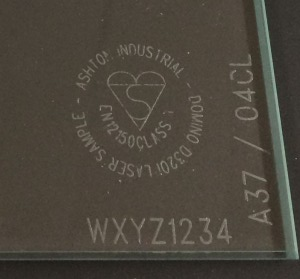 Mounting kits available for horizontal and vertical applications, mobile version complete with wheels, slim-line mounting version for direct connection to an existing table or custom fit option to suit your application.
.
**Can be wheeled up and plugged in at any table or bench.
.
**Reversible design allows change from left to right hand.
.
**Can be mounted horizontally or vertical with the optional mounting kits.
.
**Automatic firing for rectangular corners, manual firing for shapes.
.
**Height adjustable for levelling to your existing bench.
.
**Mobile, just requires power and air supply.
.
**Fully guarded to the latest standards.
.
**Optional air conditioning unit.
.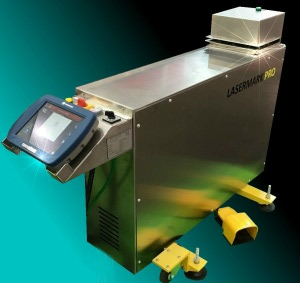 **User friendly graphical interface.
.
**Free-programmable logo designing, up to 999 stored designs.
.
**Sequential numbering, date & time marking.
.
**Serial numbers and batch codes.
.
**2D data matrix codes and bar codes.
.
**logos and graphics more complicated European and Asian characters.
.
.
.
.
.
.
See the action video by clicking here http://www.ashton-industrial.com/?page_id=4633
.