ASHTON INDUSTRIAL STRAIGHT LINE PIVOTING TRANSFER & HIGH SPEED TILT
.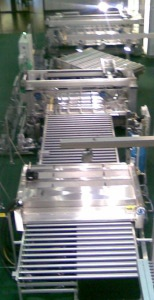 This film demonstrates the SEAMMAXX-PRO high performance arrissing/seaming line, with a unique transfer station that pivots thru 90 degrees while the glass is also turning 90 degrees, so both seaming stations can be mounted in a straight line layout.
.
Also features a high speed tilting conveyor at the end of the line, to feed glass into a vertical washing machine.
.
.
.
.
.
.
.
.
.
.