UNIX TWIN™DOUBLE SIDED HIGH PERFORMANCE
.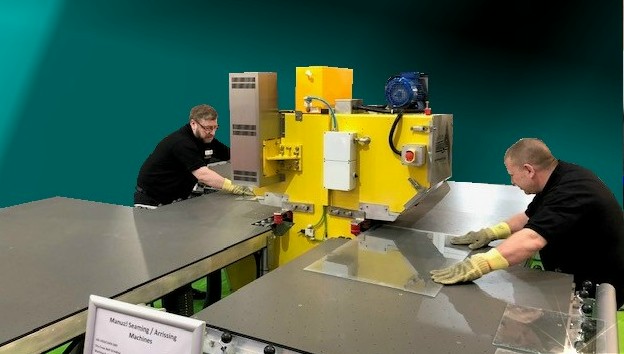 .
.
A great new concept to literally double the output from a single heavy duty UNIX seamer /arrisser.
.
The extended UNIX TWIN™ has operators working totally independently on both sides of the same machine, at the same time, using the same drives and belts common to both sides.
.
Potentially the same output as two separate UNIX ™ professional seamers, for massively less cost than two separate UNIX™ installations.
.
Table configurations can be chosen to suit each individual customer's preferences, needs and floor space availability. One example illustrated here has a standard size set of tables on one side, for lites up to ca. 2500mm long, and an extended set of tables the other side which can handle the occasional larger lites as well as all standard work.
.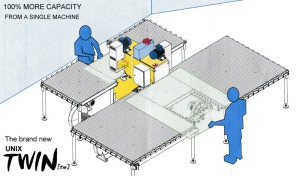 Lubrication of the grinding belts is performed by an atomiser nozzle system, presented by Ashton Industrial at the last GLASSTEC show in Germany, whereby a very small volume of water is mixed with pressurised air. This allows the superior edge finish of wet seaming without the mess and without the costs associated with high water use and disposal, and all combined with the near-effortless handling of air floatation tables.
.
.
.
.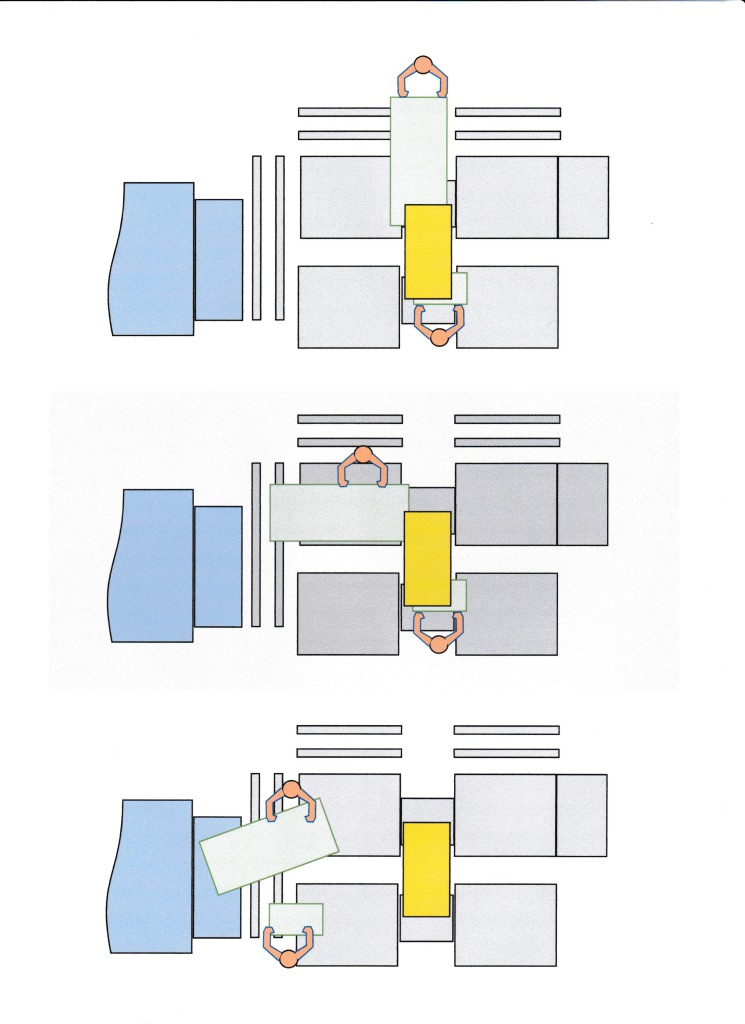 Using Ashton's simple but invaluable Walk-Thru Bars™ as extensions at the front of one table, and at the washing machine end, the operators can position themselves at an ideal angle for feeding long lites in to the washer, and can also pass freely from one side of the machine to another without walking all the way round, for example if the operator on the 'large lite' size needs assistance with a particularly large or heavy glass.
.
The front bars provide extra support while grinding the short edges of medium and long lites, allowing the operator free access in X and Y through the area, without restricting access to the machine when processing smaller sizes.
.
DOUBLE YOUR OUTPUT FOR LITTLE MORE THAN THE COST OF A SINGLE UNIX ™ SEAMER
.
Its like getting a second machine at half price.
.
.
.
.
.
Click the big blue <VIDEO LIBRARY> button to the left of this page to action footage.