TRIPLE BELT M/C
.
TRIPLE-X ™ 3-BELT M/C
.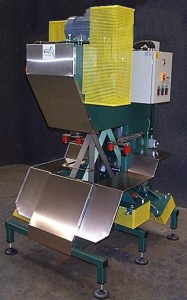 High speed, low cost diamond edge working of flat glass shapes and rectangles for architectural, domestic appliance and automotive applications.
.
A successful addition to the ASHTON stables, the TRIPLE-X/DIA ™  is a natural progression of the proven double cross belt arrissing machines which have been installed by the hundreds in tempering facilities worldwide.
.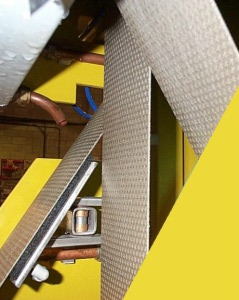 It uses the same diamond belt technology, but incorporates a third belt to simultaneously grind the flat, raw glass edge while the other two belts perform upper and lower arrisses.
.
This is a very heavy duty, high-speed diamond belt grinding machine which can be operated by unskilled labour after just a few minutes training.
.
Totally flexible, low-cost, and thoroughly proven, it can be used in conjunction with ASHTON castor tables, water-bath tables or air floatation tables.
.
Trials performed by KGS DIAMOND making multiple passes with progressively fine diamond belts show that a highly polished finish is achievable if required.
.
.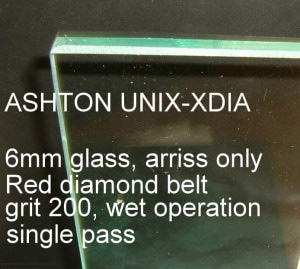 .
.
.
.
.
.
.
.
.
.
.
.
.
.
Click the big blue <VIDEO LIBRARY> button to the left of this page to action footage.