HS90-SL™ STRAIGHT LINE HIGH SPEED PRECISION TURNER
.
How do you turn lites through 90 degrees at the rate of up to 12 per minute, in a straight line layout without touching the upper glass surface and with no relative movement between the lower glass surface and the conveyors ?
.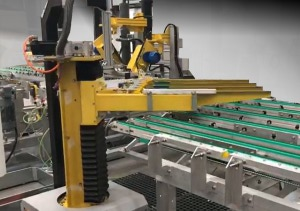 This beautiful innovative design from Ashton Industrial shows you how !
.
A neat, compact and professional engineering solution to high volume processing in a straight line layout, the HS90-SL makes use of lifting arms that pass between transport belts and transport rollers.
.
Lites from the first seaming / arrissing station arrive on transport rollers and are instantly lifted clear as the arms extend through them from below. So the next lite in line can already start its approach while the arms are pivoting away.
.
At the end of its 90 degree turn, the arms duck back underneath, passing between transport belts as they set the glass down to be driven away toward the next seaming station. The return pivoting motion is at high speed and takes place underneath both conveyors, arriving back in time to lift the next lite and start the cycle again.
.
.

.