DIAMOND CROSSBELT M/C
.
UNIX-XDIA™ WET DIAMOND CROSS BELT SEAMING (ARRISSING) MACHINES
.
THE PROFESSIONALS' CHOICE !
.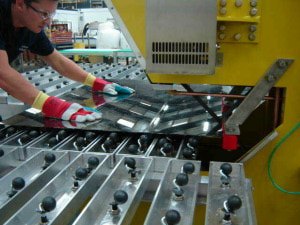 The world's most reliable, heavy duty machines for seaming before tempering, 100% performance non-stop around the clock.
.
Since the late 80's when we were approached by leading glass manufacturers to design a truly powerful machine able to specifically cope with the rigours of the abrasive slurry of glass powder and water generated by seaming, this high performance machine has undergone more than 6 upgrades.
.
Nearly 600kg in weight, virtually vibration-free and with all moving parts like bearings, tensioners, drives and transmissions mounted OUTSIDE the wet zone, these machines carry on and on even in the most dirty and demanding conditions.
.
Massive 40mm double roller bearings support stainless steel shafts with large diameter (400mm) belt pulleys which deliver a grinding belt speed of over 30 metres per second for magnificent quality finishing. Specially developed diamond grinding belts whisper across the glass, producing quality edges that can cut quench losses dramatically.
.
No spalling or loose grit from diamond belts, so surface scratching is virtually eliminated, especially in conjunction with water bath tables, where the semi-submerged castor balls rinse themselves as they turn when glass passes over them..
.
Where budgets are limited, traditional open-frame castor ball tables are readily available.
.
A simple but very effective and inexpensive sliding castor bar in the operator cut-out affords extra support to prevent sagging when processing long narrow glass pieces. Adjusted in seconds
.
.
.
.
.
.
.
.
.
WALK-THRU CASTOR BARS
EXTEND YOUR MAXIMUM PROCESSABLE GLASS SIZE
EXTRA SUPPORT FOR LONG LITES WITHOUT LIMITING ACCESS FOR GRINDING SMALL SIZES.
.
Enables very large sizes and heavy plates to become an easy two-man operation !
.
New Walk-Thru castor bar extensions from Ashton Industrial's design team are the result of discussions with customers to find an effective means of providing extra support to large glass sizes during the seaming /arrissing process, but without affecting cycle time, and without creating any limitation of access to the machine when processing average and small glass parts.
.
The solution is simple to add as a retrofit to existing installations as well as being available as an option on new machinery.
.
Our Walk-Thru castor bars fulfil all of these requirements:
.
Low cost – Easy 'flat pack' self assembly – Low shipping costs – No additional operations for the worker – these bars are permanently in place yet allow free movement through the rows to suit any glass size. No alterations to existing equipment, no change to current access for processing smaller glass – Large range of height adjustment for levelling to match existing tables. Supplied complete with floor bolts.
.
.
.
.
.
.
Simple, inexpensive and very effective for new machines and for retrofitting
.
See the action video by clicking here http://www.ashton-industrial.com/?page_id=4966
.