SEAMMAXX-PRO (TM)
.

SEAMMAXX-PRO ™ The Ultimate in high-performance automatic seaming
.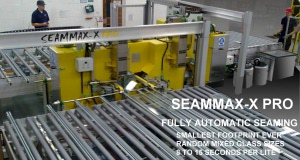 .
The very latest generation of ASHTON seaming (arrissing) lines for processing mixed, random size rectangles of glass for tempering.
.
Steve Ashton: "Things move on, new ideas emerge, new technology in electronics and controls allows us to create better and faster machinery. We have a policy of continuous development. It's the future of automation where reliability and high performance are required non-stop 24/7.
.
We are extremely excited about SEAMMAXX-PRO ™ especially the small footprint which in the most popular L-shape is smaller than a typical double-edger".
.
Half the footprint of traditional lines
Latest precision Servo Drive technology
Fastest pay-back times ever
 Typical 8-12 seconds cycle per glass
Proven Diamond Belt technology
ASHTON vacuum belt hold-down system with no contact at all to upper glass surfaces
On-Line options of laser marking, edge deletion, corner dubbing and even triple-belt heads for smoothing the glass edges as well as upper and lower seams.
.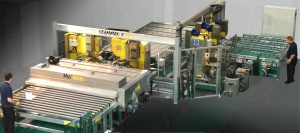 .
Lines have been delivered for sizes as big as 6m x 3.3m, and are available in many different configurations to suit available factory space and output requirements. As an example the basic SEAMMAXX-PRO ™ for max 3 x 2m typically requires no more than 10 x 7m footprint, including the washing machine.
.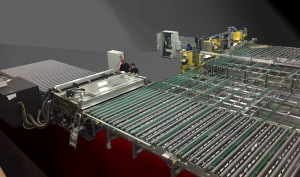 Even linked to ASHTON's fully automatic batching system, which builds random size mixed glasses into batches of multiple rows ready for the tempering furnace, the overall size can be less than a typical manual arrangement.
In its simplest layout form, SEAMMAXX-PRO ™ is linked directly to the washing and drying machine. Output can be increased by more than 50% by adding a two-stage acceleration catch-up conveyor before the washer.
.
ZERO LABOUR = TOTAL AUTOMATION
In its ultimate form SEAMMAXX-PRO™ with fully automatic batching can totally eliminate labour associated with seaming and furnace loading. The breakout operator feeds glass directly from his airfloat table into the line, where it is fully automatically seamed, lasered, batched, washed and offered to the furnace. On a 3-shift operation, with typically 3 workers per shift involved in seaming, that's 9 wages, saving around GBP 200,000 or USD 300,000……every year!
.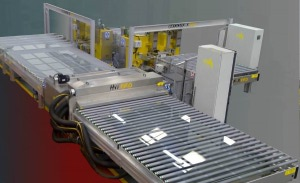 Add the lower breakages and rejects resulting from consistent diamond-quality edging, which compared to manual seaming typically improves the bottom line by 2-3% of your annual output ………………… need we say more?
.
.
FOR A PICTORIAL OVERVIEW OF SOME OF THE MANY LAYOUT VARIATIONS PLEASE CALL RICHARD GREEN ON +44 (0)1279 624810
OR EMAIL  rgreen@ashton-industrial.com
.
Click the big blue <VIDEO LIBRARY> button to the left of this page to see action footage.

.