HORIZONTAL WASHER: LISEC 1.6m MACHINE type RTL-HN, FULL REFURB, BUILD YEAR 2000
July 30, 2013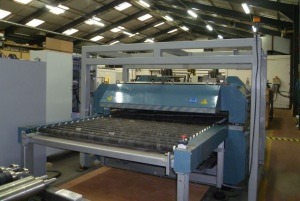 .
.
Original build October 2000 Serial number 310 004289
Working width 1600mm.
Pre-spray over 1000mm long driven in feed conveyor
3 wash sets each with a pair of cylindrical brushes, recycling tank, heaters.
Single drying zone, blower mounted on an overhead platform straddling the machine.
1.5m driven exit conveyor.
Tank withdrawal side = left, seen in direction of glass travel.
Integrated sand/carbon recycling filter.
Powered lift of top machine frame.
Glass thicknesses 3 – 26mm.
Minimum glass size 350 x 180mm.
Connected load 415v 3-phase 50Hz 38 KVA PLC control.Fully stripped, cleaned and overhauled, very good condition.
Finished in Silver Grey Hammer and original LISEC blue.
.
A great buy; our opinion is this machine potentially has another 10 good years' service with correct normal servicing and maintenance. £25,000 ex works as seen. Installation not included but can be offered if desired.
.
.