Product directory
.
Choose the category that interests you from the selection of headings below, for a more detailed listing of equipment and products within that field. Don't forget to check this site's Special Offers section too for ex-demonstration or overhauled equipment, and bargains on Insulating Glass Materials.
.
< From our column on the left, enter the Ashton Industrial www (Who What Where) zone for regularly updated news and views, trend and new installations, as well as general interest and controversy lifted from the glass industry's leading publications.
.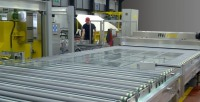 PRE-TEMPERING MACHINERY
.
Total Automation: SEAMMAXX-PRO arrissing/seaming lines, world's fastest production with up to 7 random-size lites a minute. Online options of laser marking, edge deletion, corner dubbing and fully automatic batch building to present full loads to the furnace with no manual intervention.
.
Offline very heavy duty UNIX manual seamers/arrissers designed in both dry and wet versions, for running 24 hours a day. Total reliability year in and year out. Air float and castor ball table options. The professionals' choice.
.
Edge deletion air floatation tables, manual passing of glass under the head, or automatic driven head with programmable multiple passes for deletion bands up to 300mm wide.
.
.
.

High performance I G production lines for traditional metal spacer frames and for flexible warm-edge systems. No manual adjustment regardless of size, thickness, spacer width, or shape. Option for steps in X and Y. Heavy duty off-line machinery including sealing tables, extruders, fillers, saws & Georgian (Muntin) profile processing.
.
.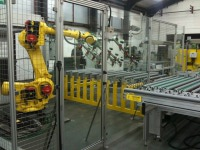 GLASS HANDLING
.
High performance handling of glass sheets for almost any application. Multi-speed multi-direction conveyors and transfers, tilt conveyors, datum changers, 180-degree flippers, drum turners, multi-storey storage, high speed stackers and loaders.
.
.
.
.
.
.
.
Equipment with multiple applications. Vertical and Horizontal washing and drying machines for tempering, laminating, coating lines. Water filtration, solids separation, demineralisation plants. Air floatation tables, castor tables, miscellaneous & specials.
.
.
.
.
MATERIALS FOR INSULATING GLASS
.
Top quality mill finish aluminium and warm-edge PVC and GFR spacers at the lowest prices anywhere.
.
SUPASIV ULTRA(TM) and SUPASIV NANOMOL(TM) molecular sieves, 3A in mini and micro bead sizes, boxes and drums. Highest adsorption capacities up to 28% independently certified, every batch tested at the manufacturer and verified by Ashton Industrial before shipment, for Delta-T, gas desorption, static electricity and capacity.
.
CLASSIC 18mm and 25mm Georgian Profiles and accessories at tremendous prices.
.