SEAMING / ARRISSING: UNIX HEAVY DUTY MANUAL MACHINES FULLY OVERHAULED
September 25, 2014
GOOD AS NEW – GUARANTEED !
.
Fantastic value for money, these are original ASHTON heavy duty machines, usually taken back in part-exchange by customers upgrading to automatic arrissing/seaming lines. All parts are thoroughly checked and replaced with new parts where needed.
.
The main machine chassis is usually shot blasted back to bare metal and treated to a completely new powder-paint finish.
.
Electrics and guarding all brought up to current CE standards, thoroughly checked, and the machines are sold with a full 6 month manufacturer's warranty.
.
All machines are guaranteed functionally perfect and, with normal maintenance are expected to deliver reliable top quality processing for at least another 10 years.
Depending on the number of new parts and the final aesthetics, each machine is individually priced.*
Call today to check availability. 01279 624810
* Price subject to VAT on inland sales. No VAT on exports. Packing, insurance and freight will be quoted according to destination.
Does not include diamond grinding belts. Supplied with 1 pair SIC grinding belts included free.
Installation is simple, but if you prefer the services of an ASHTON technician to set the machine in operation for you, we will be happy to quote.
.
One remaining machine ready for immediate despatch, next three scheduled for completion approx April 2018
.
MACHINE NUMBER N31
.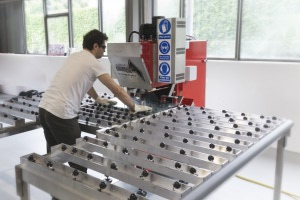 A truly exceptional example of a fully factory rebuilt UNIX wet arrissing/seaming machine, barely distinguishable from an entirely new one.
The heavy duty machine is laid out for wet operation with either SIC or Diamond belts.
Large 40cm belt drums mean we achieve belt speed approaching 150 kmh while the powerful roller bearings are only turning at half their specified capacity.
.
Quiet, smooth, professional, 100% reliability 24 hours a day !
.
The machine is offered together with a set of Water-Bath castor ball tables ca. 2.8 m x 1.8 m fitted with a central sliding support bar for long narrow work, and a benching roller for easy loading.
Complete with stainless steel tank and water recycling pump.
Suitable for glass up to 2m x 2m and down to 300mm.
TABLE extensions can be provided if larger glass sizes are to be processed.
.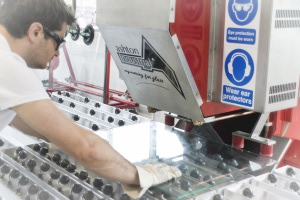 It is pictured here at its current location in the Dubai showroom of our Middle East representative following the recent Gulf Glass exhibition, from where it can be shipped anywhere in the world.
.
Price net:
UNIX refurb complete just GBP 10,995
New stainless steel Tank and Pump Unit GBP 1,900
New Water Bath Tables 2800 x 1800mm with central sliding support for narrow glass and benching roller £5,800
New extensions 2 x 1m each side if required, to make overall table 4800 x 2000mm for glass lites up to 2500mm long £1,200 each
Inclusive of packing,
Shipping cost according to destination.
.
.
.