WALK-THRU CASTOR BARS
November 30, 2018
EXTEND YOUR MAXIMUM PROCESSABLE GLASS SIZE
.
EXTRA SUPPORT FOR LONG LITES WITHOUT LIMITING ACCESS FOR GRINDING SMALL SIZES.
.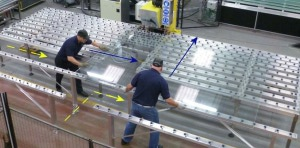 .
Simple, inexpensive and very effective for new machines and for retrofitting
The new Walk-Thru castor bar extensions from Ashton Industrial's design team are the result of discussions with customers to find an effective means of providing extra support to large glass sizes during the seaming /arrissing process, but without affecting cycle time, and without creating any limitation of access to the machine when processing average and small glass parts.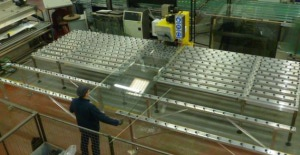 The solution is simple to add as a retrofit to existing installations as well as being available as an option on new machinery.
Our Walk-Thru castor bars fulfil all of these requirements:
Low cost  –   Easy 'flat pack' self assembly  – Low shipping costs  –  No additional operations for the worker –these bars are permanently in place yet allow free  movement through the rows to suit any glass size.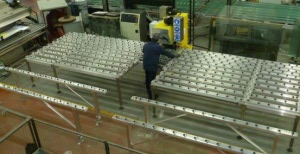 No alterations to existing equipment, no change to current access for processing smaller glass  –  Large range of height adjustment for levelling to match existing tables.  Supplied complete with floor bolts.
Available to match Water-Bath channels, or as Open-Frame profiles for open castor tables and air float tables, to be specified when ordering.