RAVENSBY GLASS EXPANDS OPERATIONS – AGAIN !
May 16, 2014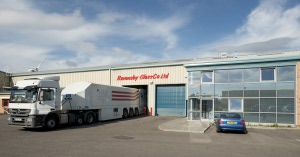 Everyone loves a success story, and we at Ashton Industrial are delighted to have been chosen to play a major role in the latest chapter of this one.
.
With a factory, purpose built in 1993, and extended five times subsequently to 80,000ft2 with further office accommodation amounting to some 3,900ft2, the original Fowler Road factory of leading glass products processor Ravensby Glass in Dundee hit capacity with an impressive daily output exceeding 1500 kite marked insulated glass units and 1600m2 of tempered glass.
.
Not a company content to sit back, they have now acquired an additional 60,000ft2 factory developed with the primary aim of processing high specification coated glass for the high spec commercial façades sector.
.
The new facility is equipped with the industry's finest technical offerings which include:
.
 Ashton Industrial SEAMMAXX-PRO high performance arrising (seaming) line with fully automatic batching and furnace feed, reducing wastage and eliminating man handling of coated products.
Glaston Tamglass FC500 Furnace enabling production of superior products with seemingly unmatchable tolerances.
 Bystronic fully automatic IG line integrating rigid warm edge and robotic sealing
 2 fully automatic Hegla cutting lines for float and laminated glass with auto loading, laser marking, and 'Remaster' partial plate storage systems.
 Torgauer Heat soaking oven.
.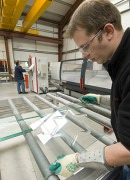 Despite the ASHTON line's capability of processing pane sizes up to 4 x 2.5m and creating even bigger furnace batches as wide as 2.8m, Managing Director of Ravensby Glass, Gordon Dickson has been very complimentary about the extremely compact footprint of the machinery.
.
Ravensby Glass, who have been trading since 1985 as part of the long established Malcolm Ogilvie group, report that this plant will maximise capabilities on all commercial unit systems including high performance solar control glass, low 'u'-value double and triple IG units, integral blinds, Colourlite insulated spandrel units and sizes up to 4500 x 2700mm.
.
From the offices of Ravensby Glass: "We are proud to say we have invested significantly in keeping Ravensby at the forefront of the glass manufacturing industry. Our machinery is cutting edge, incorporating the latest manufacturing technology and the highest quality.
.
We supply to the public, residential, commercial, historic and medical sectors and have a wide spectrum of products which meet and exceed British and European standards.
.
We also provide specialist technical expertise and resources from product specification and design, to fabrication and delivery."
.
For more information visit   www.ravensbyglass.co.uk