HEAVY DUTY PROFESSIONAL ARRISSING INSTALLATION FOR GLASSTECH IN ABU DHABI
August 31, 2015
.

.
.
Leading specialist for processing of architectural glass, aluminium and cladding in the GCC, GLASSTECH have now enhanced their machinery capabilities with the addition of ASHTON INDUSTRIAL's professional arrissing plant, the high performance UNIX-XDIA machine with unique water-bath tables.
.
.

.
.
These continuously rinse themselves clean as glass is moved around, to virtually eliminate scratches on the glass surface.
.
.
.
.

Established in 2012, GLASSTECH operates one of the latest and most advanced glass & façade specialist companies in the UAE.
.
.
Strategically located at the Industrial City of Abu Dhabi (ICAD), GLASSTECH covers a total area of 50,000 sqm, including a large stockyard and is a member of the KHALIFA fund with strong financial support.
.
.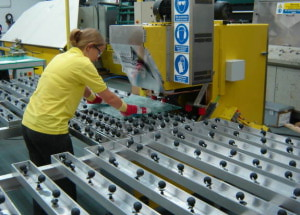 .
GLASSTECH's activities also encompass the processing of aluminum systems and cladding, and now provides integrated glass solutions to its extensive network of clients.
.
Raw materials are imported from various sources complying strictly with the most stringent international standards.
.
.