TOP OF THE RANGE INVESTMENT IN PORTUGAL
January 14, 2017
.

.
Established more than 30 years ago, VidreiraAlgarvia entered a new phase of development with new ownership in 2009. The new administration, led by Simão Rodrigues, has instigated changes and modernisation which are moving the company at a rapid pace along its chosen route of making it a reference for quality and innovative products both nationally and internationally.
.
Investment in industrial, commercial and human skills is paramount here, and is at the heart of providing the means to achieve the objectives outlined. VidreiraAlgarvia, which had 16 employees at the time of acquisition by the new administration, is now represented by 59 professionals.
.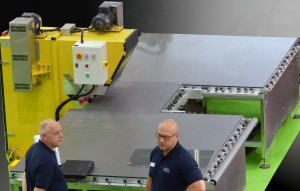 That investment now includes a brand new top of the range UNIX arrissing/seaming plant, the latest "Best-of-Both" model which for the first time combines all the quality benefits of wet seaming with all the effortless handling benefits of air floatation.
.
"We guarantee quality production based on world renowned standards, best raw materials and certified industrial processes.
Our location in the south of the country does not make VidreiraAlgarvia a regional company, we aspire to supply nationwide including the Azores and Madeira and the Spanish market and its archipelagos (Canaries and Baleares). VidreiraAlgarvia already exports to the African market, including Angola and Mozambique. We pursue a single goal: Total customer satisfaction with superior products."
.
More information from:
.
VidreiraAlgarvia Industrial Zone of Mesquita Lot 1 – Apartado 79 – Mexilhoeira Grande 8500 –
132 Portimão Tel:282 410 970 Fax: 282 410 975 E-Mail: geral@vidreira-algarvia.pt
.
See this equipment in action by clicking the blue [VIDEO LIBRARY] button on the left, or use this direct link.
.