KENTUCKY ENDORSEMENT
July 31, 2017
.


Top vinyl window manufacturer ViWinTech proudly serves 28 plus states and is consistently listed in the top 100 window manufacturers in the United States by Window &  Door Magazine.
.
Manufacturing started back in 1986 with the "CertainTeed" brand and then in 1999 ViWinTech introduced its own proprietary vinyl window and patio door products, a decision they state that made it possible to stay on the cutting edge and expand their substantial distribution network.
.
Commenting on their recently commissioned EDGE DELETION PRO installation, Doug Hillyer expressed his total satisfaction with these positive words:
.
"This air support style edge delete table does a great job, is easy to use, and is far less maintenance than the caster support style tables to keep in operation. We run about 2000 pieces of glass on it daily and so far only replaced the (consumable) grinding wheel and few support and guide casters in 8 months of usage. To compare, we had to replace 75% of the casters every month and a half on the other caster support style edge delete tables."
.
Thank you for that excellent endorsement Doug, customer satisfaction is what we are about!
.
More info on ViWinTech from:
.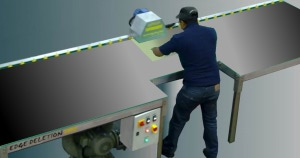 Doug Hillyer
.
ViWinTech Window And Door
2400 Irvin Cobb Dr.
Paducah, Ky 42003
270-538-4436
.
.