SOLO-PLUS™ MOST COMPACT FOOTPRINT EVER FOR FULLY AUTOM. STRAIGHT–LINE SEAMING / ARRISSING
February 12, 2018
.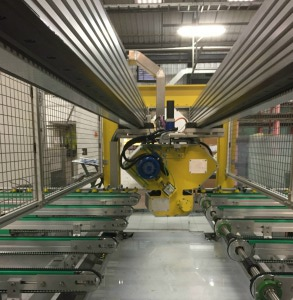 .
• Maximum glass size from 2 x 2m up to Jumbo
• Average 3 lites per minute seamed top and
bottom all round,
• Possible 4 /minute with extra catch-up section.
• Heavy duty precision & round-the-clock
reliability.
.
.
SOLO-PLUS™ is the ideal concept for producing seamed glass for tempering or laminating, fully automatically, with zero labour costs. Even the largest sizes are fully automatically seamed at high output rates.
.
Smaller typical average window and door sizes are dealt with at 3 or even 4 per minute depending on washer speed and exit conveyor configurations.
.
.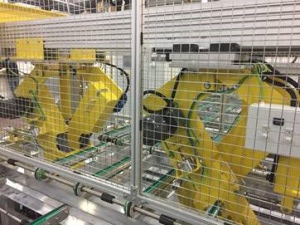 The footprint is extremely compact, just 2m wider than the widest lite to be seamed, and ca. 3x the maximum glass length. A PLC-controlled X-axis double sided head mounted on a bridge across the line's width, automatically seams both the leading and trailing edges of each lite without any manual intervention. Lites then accelerate forward where 4 heads seam the two long edges while that lite is entering the washing machine. At the same time the leading edge of the next lite is already being seamed. Driven transport belts on swing-up arms bridge the gap for small lites.
.
.
.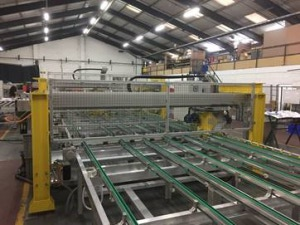 All grinding heads are driven by precision servo motors mounted from above, away from any abrasive glass powder generated by the seaming process.
.
Glass edges are automatically detected by the grinding heads, no preprograming is required, the automatic process is performed on totally random, mixed sizes of glass, for example direct from optimised cutting and breakout.
.
SOLO-PLUS™ can be automatically fed with lites from an upstream conveying system or can be loaded direct from breakout for a totally labour-free production.
.
AUTOMATIC BATCHING can be included – full furnace bed loads consisting of multiple rows of seamed and washed lites are delivered directly to the furnace.
.
Click here to see SOLO-PLUS™ in action
Or click the blue VIDEO LIBRARY button on the home page.