GOOGLE GLASS – ABU DHABI – UAE
March 12, 2020
.
MAJOR AUTOMATION INVESTMENT FOR ONE OF THE REGION'S LEADING PROCESSORS OF ADVANCED ARCHITECTURAL GLASS PRODUCTS:
.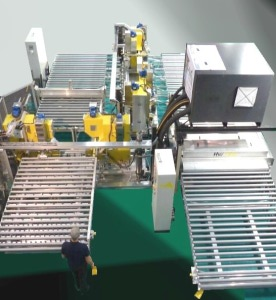 The glass processing factory of Google Process Glass Co in Al Ain Industrial City, Abu Dhabi is being upgraded with the latest high performance automation from Ashton Industrial. In close cooperation with founder and owner Mr. Abdulla Al Harthi, pictured below with Ashton Industrial's Global Sales Coordinator Heinz Wiedmayer, Ashton has customised a fully automatic SEAMMAXX-PRO arrissing (seaming) line which creates a perfect production flow from breakout, via laser logo marking and arrissing, to automatic row building and washing directly through to the tempering furnace, without manual handling.
.
Random mixed glass sizes from optimised cutting, are processed at rates of up to 6 or 7 lites per minute. During arrissing each lite is automatically measured and compared to the washer and furnace bed width, then assembled into rows without any manual intervention.
.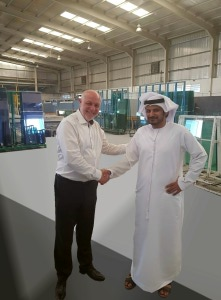 Making Google Glass possibly the most automated modern tempering facility in the region.
.
To increase I G Unit production capacity, Mr. Al Harthi has also invested in Ashton Industrial's IGPRO vertical sealed unit line which washes, assembles and presses double and triple units in rectangular and shape formats at an average 30 seconds cycle time.
.
Additional Ashton queuing conveyors will bring all units from two production lines, to a common sealing and despatch area.
.
The Google Glass processing facility was established in 2009 in the industrial city of ALAIN and specialises in all forms of glass treatment such as tempering, edge work, drilling, polishing, bevelling, sand blasting and double glazing, all to clients' individual requirements.
.
Frameless glass doors and partitions are produced in both automatic and manual versions.
.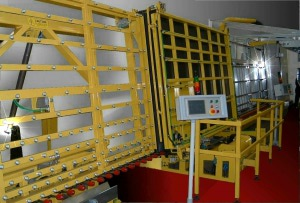 These unite high opening speed and easy access with safety and comfort for the end user and are particularly popular in high traffic areas such as airports, railway stations, public buildings, shopping malls, hotels and retail shops.
.
Among the myriad glass products offered by Google Glass is a beautiful range of shower cubicles in multiple combinations with a wide choice of sliding and bi-fold doors, from selfcontained cabinets to screen panels for bays, corner or flat wall units.
.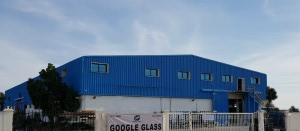 .
Al-Ain Industrial City 1
P O Box 92122
Abu Dhabi
UAE
.
Tel: +971 3 7668566 info@googleglass.ae