DIAMOND BELTS
.
In over a decade of close co-operation between KGS and ASHTON INDUSTRIAL, we believe we have evolved the perfect diamond grinding belts specifically for edge grinding and seaming of glass sheets on ASHTON's heavy-duty automatic and manually operated machines.
.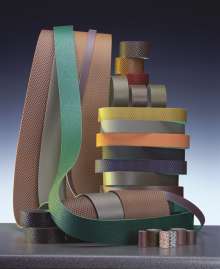 Clients report dramatic reductions in the number of glass pieces lost in the quench, due to the fine diamond-ground finish.
.
Surface scratching problems are virtually eliminated at a stroke, because the damaging loose particles of grit from standard SIC belts are simply not present in diamond belts.
.
Downtime for changing belts mid-shift is eliminated due to the long life of diamond belts (25 minutes a shift lost to belt changes is 5% of your production wasted when using Silicone Carbide belts).
.
Amazing results are being achieved, on both automatic arrissing lines and on manually operated stand-alone machines.
.
What kind of life can you expect from FLEXIS-PLUS™ diamond belts? Let's give you some real life examples…
.
One company in Manchester, England reported an average of 15 weeks, double-shift operation, from each pair of belts used on a manually operated ASHTON cross belt arrissing machine
One of the USA's leading glass groups ran a set of 8 belts on their ASHTON seaming line for almost a whole year
Actual feed-back from users in real production environments indicate that a set of 8 belts on an automatic ASHTON line will produce double shift for between 12 to 20 weeks, depending on the volume of production and glass removal
.
DIAMOND BELTS COST LESS THAN STANDARD SILICONE CARBIDE BELTS!
.
O.K, we confess, that's an eye-catching way to put it. The price per belt is of course much more, initially, than SIC belts, but look at these examples and work out the true cost, bearing in mind SIC belts last only hours in continuous production. Not just the long life, but the increased yields and reduced downtime, and the elimination of re-makes due to surface scratches all contribute to the cost advantages.
.
EXAMPLE: In a 15-week period running double shift:-.
.
Silicone Carbide (Carborundum):
.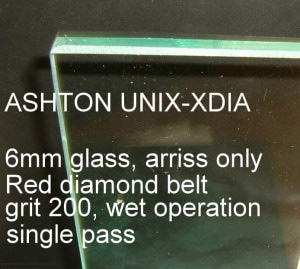 Belt change every 4 hours = 8 belts per machine per 16-hour day.
At around £5 per belt = £40 per day = £200 per 5-day week =
£3000 in 15 weeks
.
Diamond:
.
1 pair of belts =
£1000 in 15 weeks!
.
Massively less waste disposal
.
And all that for around a third of the cost !
.
.
***   Upgrade to FLEXIS-PLUS™ diamond belts right now – the future has arrived!   ***

.
.
Click the big blue <VIDEO LIBRARY> button to the left of this page to action footage.