BENDING GEORGIAN (MUNTIN) BARS
.
Simplicity and reliability
.
Manufacture your own bends and curves, semicircles and arches.
.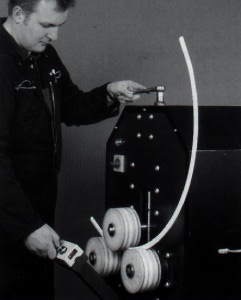 .
Designed to be uncomplicated and easy to use, this machine can produce precision bends and arches to any operator after just half an hour's practise.
.
Constructed from 10mm steel plate it is extremely heavy duty and delivers quality and the repeatability required of Georgian bends.
.
There is a common drive of two 40mm diameter driven spindles by a geared brake motor and gearbox, with transmission via a large timing belt for precise yet quiet operation.
.
Advance of the third, non-driven spindle to control the degree of bend, is manually operated by ratchet handle, with a graduated scale.
.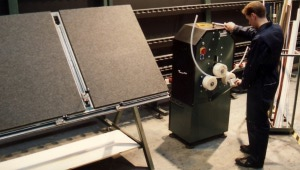 .
This machine is delivered complete with one set of bending rollers customised to individual customers' bar profiles, plus a 3-point curve measuring bench and profile offcut trolley.