ROBOLOAD-PRO™ AUTOMATIC LOADING & UNLOADING SYSTEMS
.
For high speed loading of lites in series mode (long runs of equal sizes) the ROBOLOAD-PRO is a robust high performance solution that can lift singles or pairs or multiples presented in racks and load these within a cycle time of under 15 seconds.
.
The heart of the ROBOLOAD-PRO is a free programmable robot arm from FANUC robotics, carrying a special head and vacuum suction cup frame designed by Ashton Industrial. Individual sucker cups on the frame are only activated when there is glass present under them, eliminating the need for manual settings or adjustments.
.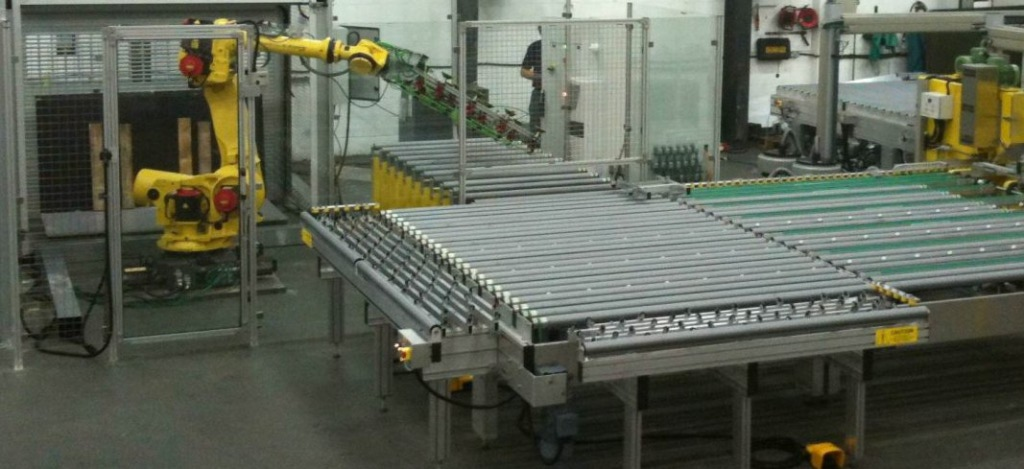 .
In standard, there are at least two rack loading positions, each mounted within its own safety enclosure. Guarding is organised in such a way that access to the robot working area is automatically physically blocked whenever a rack change is being performed.
.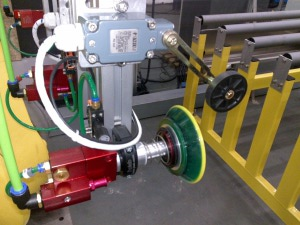 This means the robot can operate continuously without breaks, alternating between load stations.
.
All access points are fully interlocked and will cause the robot to E-Stop if breached. A controlled shutdown or isolation procedure is provided to provide safe access when required.
.
ROBOLOAD-PRO comes complete with its own roller conveyor, where lites can be loaded from above or optionally coated-side-up where the ROBOLOAD-PRO™ vacuum frame passes through the conveyor rollers. It includes controls to accept multiple lites loaded in a row and to 'peel' single lites from the row and feed them singly into a SEAMMAXX-PRO seaming line or other production process.
.
Offloading applications can be programmed for single or multiple lites, including pre-indexing and row building prior to lifting, and offloaded lites can be deposited into racks or cases, or on to other transport conveyors in either vertical or horizontal planes.
.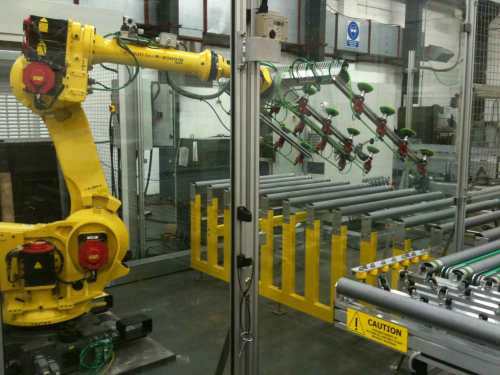 .
Click on the new VIDEO LIBRARY button on the left of this page to watch the video ROBOT HANDLING EQUIPMENT and see ROBOLOAD-PRO™ in action…….
.
Other automated handling equipment includes:
Rotary rack-change carousels
Linear rack-change carousels
180 degree turnover conveyors
90 degree transfer tables
90 & 180 degree pivoting transfers
Vertical Paternoster storage units