CASTOR TABLES, WATER-BATH TABLES & ARTICULATED ARMS
A most diverse range of tables for supporting and manoeuvring glass sheets during manual arrissing, and other handling applications.
.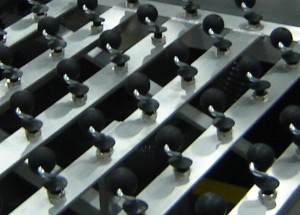 ASHTON INDUSTRIAL manufactures high quality tables for every kind of dry and wet glass handling application.
.
.
.
In wet applications, such as supporting glass sheets in front of cross belt arrissing machines, the tables are manufactured entirely of stainless steel and aluminium.
.
.
.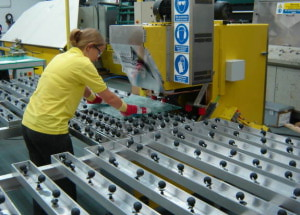 These can be standard, traditional style open-frame tables or special Water-Bath Tables which have been developed for maximum protection of glass surfaces in contact with the castors, where all the castor balls are semi-submerged in water, thereby rinsing themselves every time glass is passed over them, causing them to turn.
.
.
.
.
In spec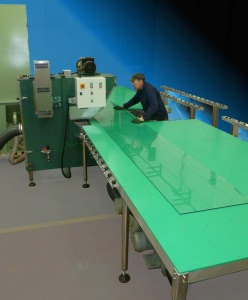 ial processes, where there can be no relative movement at all between glass surface and support table, a rotating and/or tilting vacuum table can be fitted to a double-articulated arm, allowing the operator complete freedom of movement of the glass in both x and y axes.
.
.
.
.
Air floatation is covered by our unique AIRFLOW™ design with engineered plastic surface for perfect flatness, easy wipe clean housekeeping, and a special fan arrangement which achieves a 'high float' effect where the glass is 3 to 4mm above the table surface, more than double that of alternative systems.
.
.
.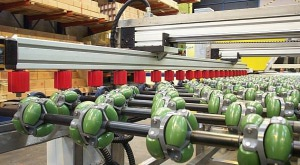 .
The advantage? We glide over any small glass shells from the breakout process that may ping on to the table surface, without contact and without scratches !
.
.
.
.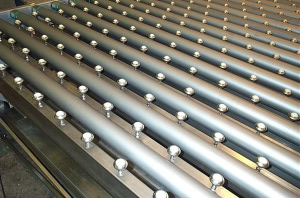 Standard and custom sizes, heights, pitches and shapes can be specified.
.
For dry applications, like general movement or re-orientation of glass sheets, edge deletion tables and insulating glass sealing tables, either air float or low maintenance swivel castors offer effortless manoeuvrability.
.
Automatic conveyors from ASHTON can feature pop-up beds of castors or dual-directional clusters for pre-positioning glass sheets prior to arrissing for example, or for arranging glass loads in front of a tempering furnace.
.
These can be tilting, pivoting, rotating, multi-storey …….. test our ability, hit us with your requirements today and see what solutions we can offer !…..WALK-THRU CASTOR BARS.
.
EXTEND YOUR MAXIMUM PROCESSABLE GLASS SIZE
EXTRA SUPPORT FOR LONG LITES WITHOUT LIMITING ACCESS FOR GRINDING SMALL SIZES.
.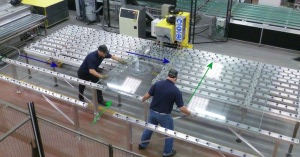 .
.
Simple, inexpensive and very effective for new machines and for retrofitting, new Walk-Thru castor bar extensions from Ashton Industrial's design team are the result of discussions with customers to find an effective means of providing extra support to large glass sizes during the seaming /arrissing process, but without affecting cycle time, and without creating any limitation of access to the machine when processing average and small glass parts.
.
The solution is simple to add as a retrofit to existing installations as well as being available as an option on new machinery.
.
Low cost – Easy 'flat pack' self assembly – Low shipping costs – No additional operations for the worker –these bars are permanently in place yet allow free movement through the rows to suit any glass size.
.
No alterations to existing equipment, no change to current access for processing smaller glass. Large range of height adjustment for levelling to match existing tables. Supplied complete with floor bolts.
.
Available to match any style of table, to be specified when ordering.
Please remember to state quantities, lengths, and height of existing tables to be matched.
.
.
.
.
.
.
.
.
Click the big blue <VIDEO LIBRARY> button to the left of this page to action footage.