INSULATING GLASS LINES
.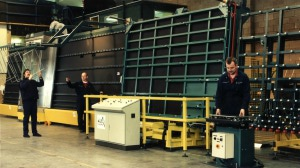 "Compact" and "Maxi" heavy duty lines for manufacturing double and triple I.G. units.
..
Average 25 seconds per double unit.
.
High performance, quality engineering manufactured by Ashton in the UK.
.
Fully automatic flat plate assembly and pressing regardless of glass size, thickness, type or shape.
.
Keen pricing.
.
Options for stepped units.
.
These lines can be run with standard direct gunning sealing machines, or can be linked to robotic sealing.
.
.
.
.
.