UNIX BoB (BEST OF BOTH) HEAVY DUTY PROFESSIONAL CROSS BELT SEAMER
.
The most superior Cross-Belt Seaming Machines in the world today, manufactured and designed specifically to tackle all the known problems associated with glass arrissing.
.
.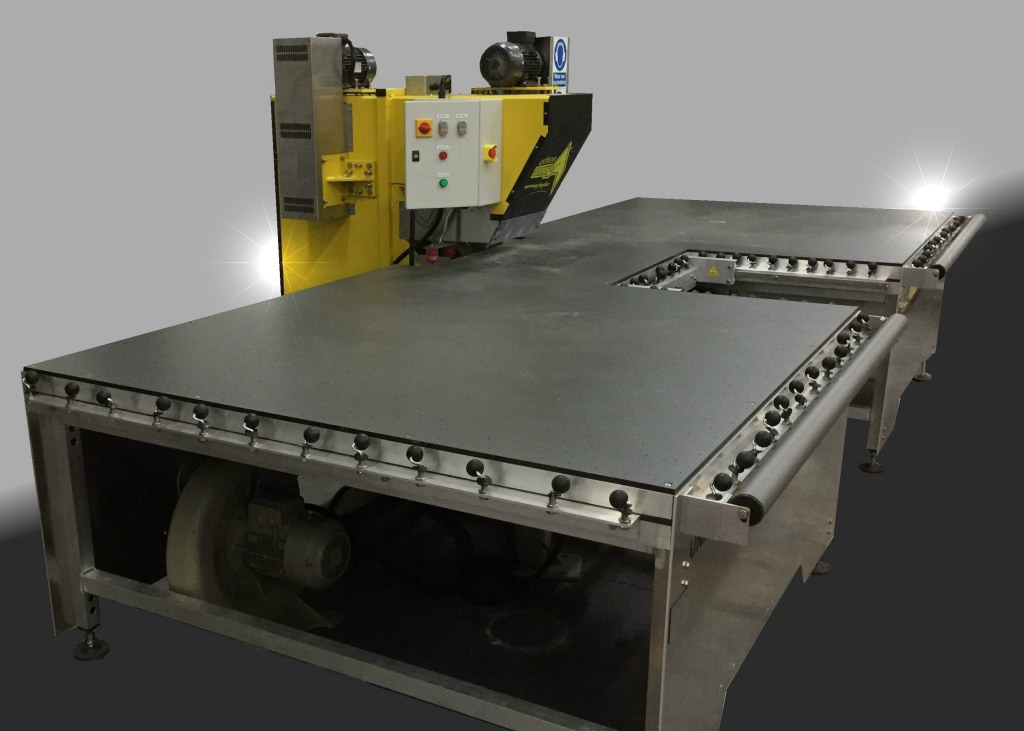 .
Ashton Industrial have specialised in high-performance arrissers for more than 25 years. These very-heavy-duty machines are designed to run reliably, 24 hours a day even in the harshest of environments: The glass tempering factory ! Around 600kg/1200 lbs of round-the-clock reliability, year after year.
.
Large 3350 x 100mm (130" x 4") standard abrasive belts are employed, running on tailor-made large diameter rubber-treaded pulleys on stainless steel shafts, and powered by 3-phase AC motors mounted in the dry area above the machine. Drive transmission is via V-belts rather than direct motor mounting, for smooth, quiet running.
.
All UNIX machines are able to run with Diamond belts, Conglomerate or Silicone Carbide belts.
.
A MAJOR PROBLEM in all glass grinding applications is how to prevent abrasive glass particles from attacking bearings and other moving parts, which is probably the single biggest cause of machine downtime; Glass particles and slurry not only ruin seals and bearings, but also damage the shafts on which the bearings run. This in turn quickly leads to damage of replacement bearings.
.
Our answer is simple, logical and effective – we mount all bearings, tensioning mechanisms and drives in the relatively clean and dry environment OUTSIDE the machine frame !
.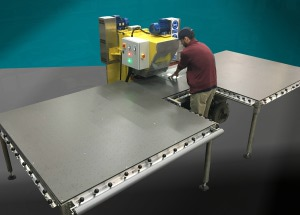 Special Taper-Lock fixings are incorporated into the bearings and drive pulleys, guaranteeing a 100% perfect interference fit to the stainless steel shafts. Large diameter pulleys deliver exceptionally fast grinding belt speeds at lower shaft r.p.m. which means bearings are running at less than half their rated speeds.
.
The complete concept is designed around the need for a machine that can happily cope with continuous use in very arduous applications, such as glass tempering plants.
.
The UNIX concept has been available for decades in wet and dry applications.
.
The UNIX BoB "best of both" is the world-first design that combines all the edge quality benefits of wet grinding, with the effortless handling of air floatation tables.
.
Check out the video footage of UNIX BoB in action, on
http://www.ashton-industrial.com/?page_id=4519