AUTOMATIC BATCHING FOR TEMPERING
.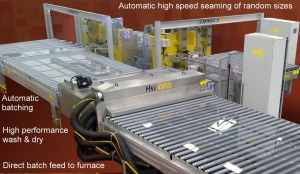 .
.
BATCHMASTATM
.
One of the greatest difficulties facing tempering facilities is the handling of coated glass without making contact with the relatively delicate coated surface.
.
Automatic seaming takes care of one part of the problem. ASHTON INDUSTRIAL's fully automatic batch building system takes care of the rest! The batching system fully automatically measures each glass as it passes through the seaming process, and logs the size data in its PLC controller. It then builds those lites into rows, and arranges the rows one behind the other, until full bed loads are ready. Totally random mixed sizes, for example direct from breakout, are arranged into such multiple-row batches and transported directly on to your furnace load conveyor with absolutely no manual intervention.
.
The same PLC control system determines and maintains your preferred gap between each lite or row.
When it calculates that the next lite will not fit in a row, those lites already in the row are automatically centred to the conveyor's width, and the whole row moves forward. That next lite then becomes the first in a new row.
.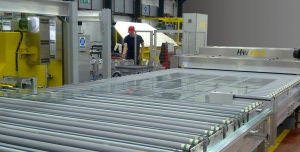 This unique and highly effective system of automatic batching not only saves manpower* it also greatly reduces the number of lites rejected due to manual handling errors like chipped edges, fingerprints and scratches.
.
(* traditional manual batching requires at least one person per shift. On 3-shift operation that means 3 people's wages saved every year. The cost of automatic batching can usually be justified in less than one year when both labour savings and reduced rejects are considered)
.
WATCH IT IN ACTION:
.
Click the new VIDEO LIBRARY button on the left of this page to watch the whole SEAMMAXX-PRO line including batching. On the film time-line, batching starts at approx. the 6 minutes mark.
.
Click the VIDEO LIBRARY button also to see the batching in operation at Rochester Glass in New York. In this clip, most lites are same size pieces, but that is not a requirement, the batching operates exactly the same on totally random mixed sizes.
.
Super-efficient precision automated handling & repeatability
Low investment with incredibly fast payback time
Saves labour, eliminates fingerprints, reduced rejects = increased yield
Removes risk of personal injury and safety issues associated with manual handling
.
SOME POPULAR LAYOUTS INCLUDING AUTOMATIC BATCHING – OTHERS AVAILABLE
.
(CLICK ON PICTURES FOR CLEARER LARGER IMAGES)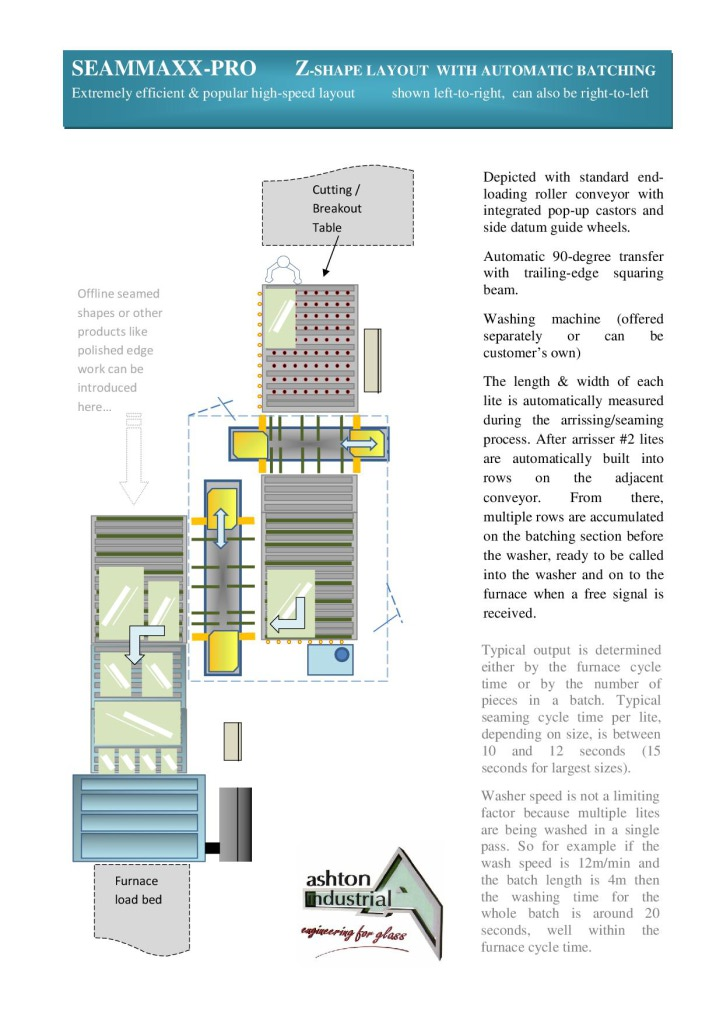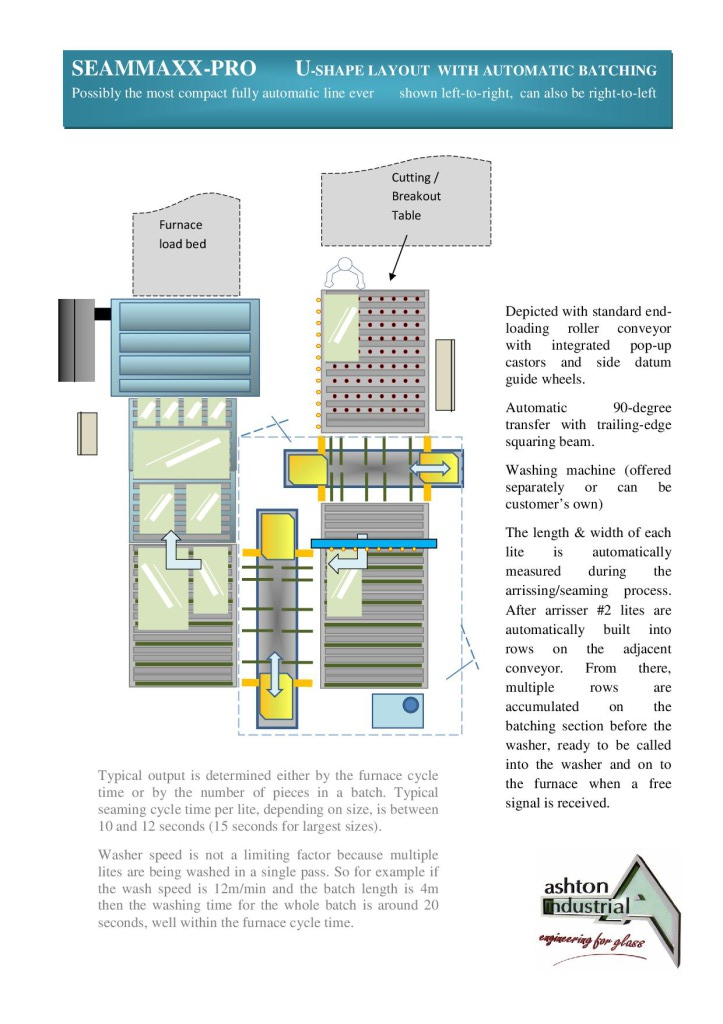 See the action video by clicking here http://www.ashton-industrial.com/?page_id=2902